Shred-Tech CAMEC MG400 Industrial Shredder
Plastic Waste; Blown Films; Thermos-Formed, Roto-Moulded, and Injection-Moulded Parts; Extrusions; Rubber Products; and more
Medium-Duty/Standard Volume Throughput (1-3 tons/hour)
Exterior Shaft Bearings to Prevent Contamination
Water Cooling Jets
High Efficiency Drive
Request A Quote
Shred-Tech CAMEC MG400 Industrial Shredder
For reliable, efficient, and cost-effective plastic waste shredding, look no further than the CAMEC MG400 Industrial Shredder from Shred-Tech®. This medium-power granulator is the ideal solution for businesses seeking a complete shredding solution that works for them and their budget. Specially engineered for precision granulation, the MG400 thoroughly reduces heterogeneous plastic waste materials, as well as thermoformed, roto-molded, and injection-molded parts, blown films, extrusions, rubber products, and more to tiny, consistently sized granules of material thanks to a shred screen design. Materials can be fed into the shredder either single-stream or mixed, and a 15" x 39" maximum material size is permitted into the shredder. Compact and powerful, this shredder can easily fit into nearly any facility space and provide smooth, dependable shredding for your application thanks to a robust electric motor that powers the sharp steel shred knives with a medium-duty throughput (1-3 tons per hour) and rips through plastics easily. This power level and efficiency is perfect for companies that require a balance of shredding speed and cost-effectiveness to recycle a wide range of materials quickly.
When you purchase a CAMEC MG400 Industrial Shredder from Shred-Tech®, we will not only provide you with a high-quality, efficient, and complete plastic waste shredding solution, but we will also support you every step of the way to ensure your business' long-term success in this lucrative industry. From equipment maintenance to replacement parts, training, financing options, and all manner of customer service and support, we are dedicated to helping you drive profits and remain highly competitive for years to come.
Applications
The CAMEC MG400 Industrial Shredder can be used for the following applications:
Standard Features for the MG400
The CAMEC MG400 Industrial Shredder has been equipped with only high-performance standard features and components to ensure you have a complete turnkey plastic waste shredding solution you can depend on for years. These features include exterior shaft bearings, cooling water jets, high efficiency drives, and a unique cutting angle to name a few. The shaft bearings have been mounted outside the shredding chamber walls to prevent shredded material from getting contaminated. The exterior shaft bearings in turn allow the use of cooling water jets within the chamber, which maintain regularity during the shredding process by cooling materials with ultra-low melting points. To ensure peak shredding capacity as well as cost-effectiveness and reliability, high efficiency drives have also been implemented, while the unique cutting angle between the cutting blades and counter blades helps to conserve energy and significantly reduce the formation of dust particles. All of these features combine to make the CAMEC MG400 Industrial Shredder a versatile, efficient, and dependable piece of shredding equipment that can shred a wide range of materials and drive profits for years.
Optional Accessories for the MG400
The MG400 not only comes standard with a complete set of high-performance features but can also be improved and modified with optional accessories to make the MG400 perfectly match your business applications. Some of these optional accessories include custom stands, custom hoppers, in-feed conveyors, and out-feed conveyors to name a few, which can help increase clearance, convenience, and efficiency during the loading and unloading processes. Other optional accessories can be added to your purchase of an MG400 by contacting a Shred-Tech® expert; call today and we'll tailor-make a CAMEC MG400 Stationary Shredder that matches your requirements and help you drive your business forward to lasting success.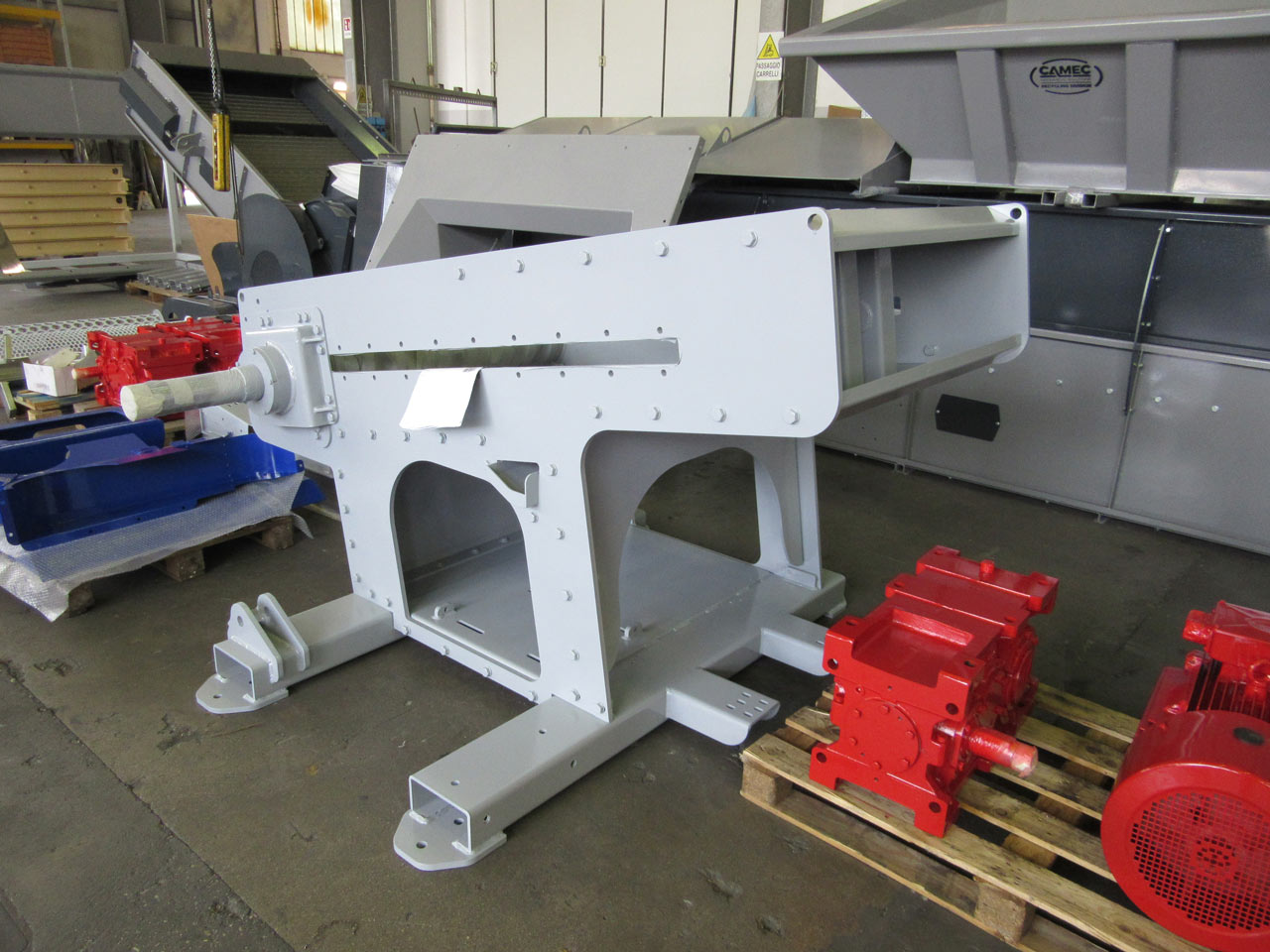 Custom Stands and Hoppers
Adding a custom stand to your MG400 is a great way to provide more clearance in your facility and raise the shredder off the ground to incorporate other equipment in your space. A custom stand can make operating the MG400 more convenient for operators since it can allow shredded material to fall onto downstream equipment like an out-feed conveyor and be carried to a bin or other reservoir for smooth unloading. Including a custom hopper can also improve convenience and efficiency, since the hopper allows for a steady flow of unshredded material into the machine. Easily installed, custom hoppers help prevent blockages and buildup in the shredder and can be paired with an in-feed conveyor or other peripheral equipment to create the smoothest and easiest in-feeding process.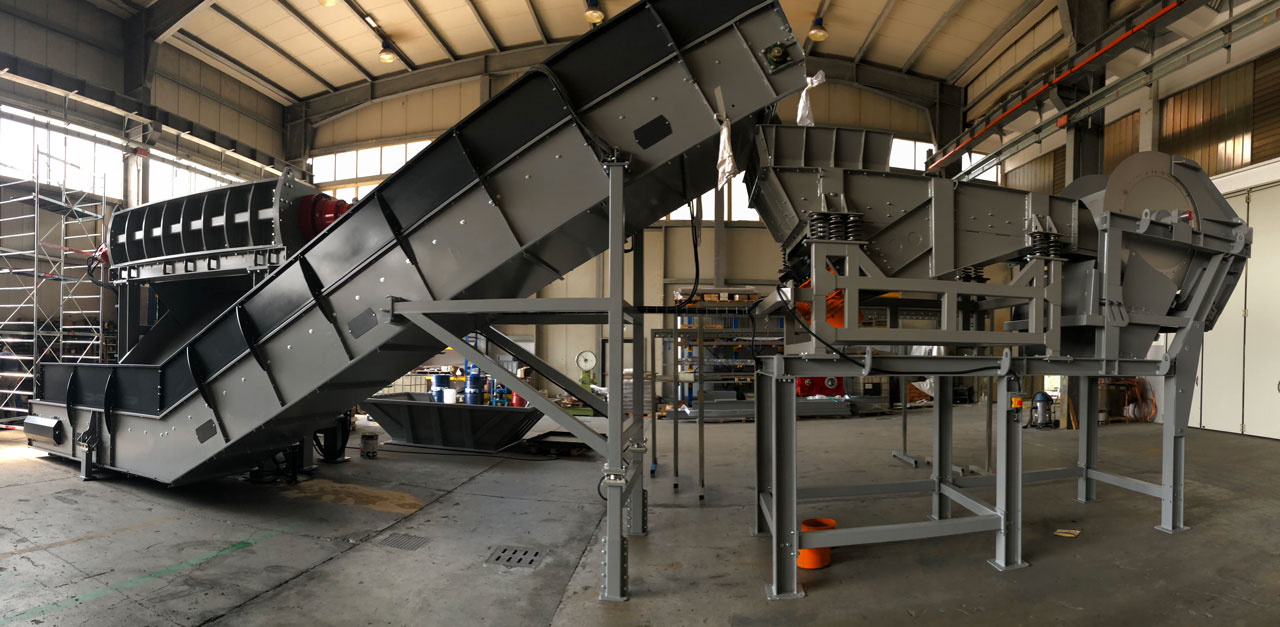 In-Feed and Out-Feed Conveyors
Conveyors are a great way to smooth out and automate the in-feeding and out-feeding processes, and thereby increase both efficiency and convenience. Material can be quickly and easily loaded onto an in-feed conveyor. From there, the conveyor will feed the unshredded material to the shredder. Following the shredding process, the material can be unloaded by the shredder onto an out-feed conveyor, which can automatically bring it to a bin or other reservoir for easy unloading. Including conveyors with your purchase of an MG400 can improve both your workflow and cashflow.