As the specialty commercial shredding equipment manufacturer with the largest global footprint in the world, Shred-Tech® prides itself on informing, guiding, equipping, and supporting shredding and recycling businesses worldwide with top-quality products and services, all while focusing on value-based solutions that increase return on investment and improve profits. However, you don't have to take our word for it! Shred-Tech® has had the pleasure of working with numerous companies the world over who seek to share how we helped them grow their business.
Listen from companies like AMG Resources®, Paper Shredding Services®, Cyclone Shredding®, and many more to hear how Shred-Tech® can help you start, grow, or expand your business!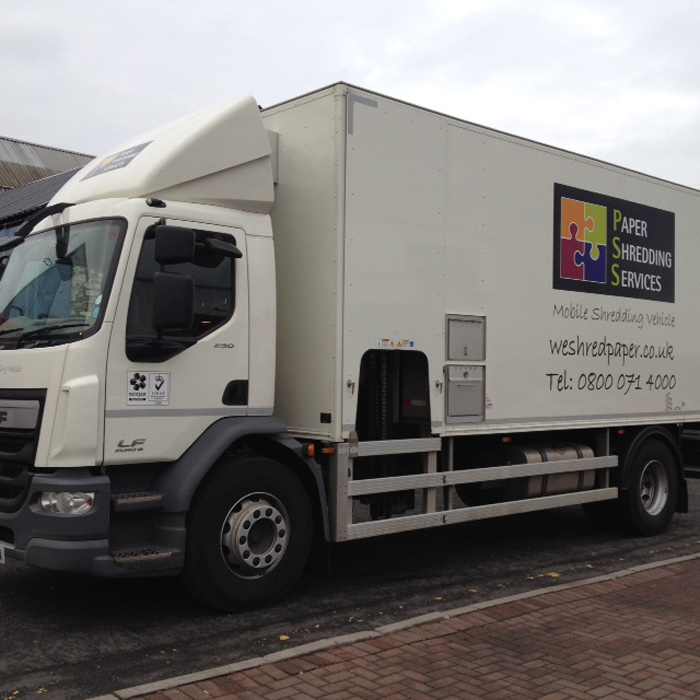 Paper Shredding Services
Paper Shredding Services is the leading on and off-site document and electronic data shredding and recycling company in Scotland. A true Scottish company, who have delivered shredding and recycling services since the year 2000, and worked with hundreds of different business types, both large and small. Using specialized commercial shredding equipment, whether it's for document shredding or hard drive shredding, Paper Shredding Services regularly review their requirements for commercial shredding equipment to ensure they are operating at peak efficiency.
To assist their business, Ron Hill (MD) approached Global Recycling, based on the fantastic reputation Shred-Tech has in the marketplace. Based on a DAF LF55 Chassis and fitted with the tried and tested ST-15H Shredder, an order was placed for an MDS2-18GT Mobile Document Shredder. This shredder features a cast aluminum shredder design, auger style compactor, bridgeless vibrating hopper, computer-controlled operating system with integration of chassis control, and predictive engine idle to reduce emissions and save fuel. The ST-15H shreds up to 2,500 kgs/hour and boasts a hex shaft with easy to change heat treated and case carburized knives.
Stewart Wilson, General Manager, comments:
"We are delighted with our purchase and the truck is performing extremely well. No sooner had the new truck been delivered, Global Recycling T/A Shred-Tech then installed an ST-35E Static Shredder with in-floor feed conveyor for our off site shredding facility. Again this is performing very well too, with throughputs up to 3000kgs/hour dependant on feed stock."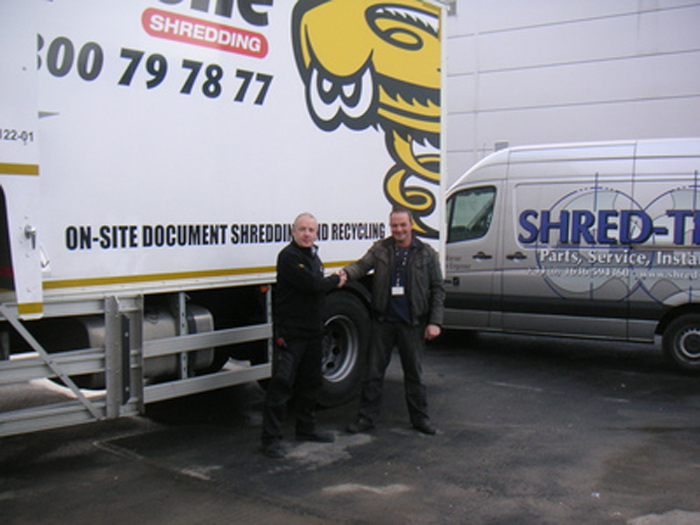 Cyclone
Cyclone offers convenient and economical on-site and off-site document destruction throughout Ireland, using Shred-Tech Mobile and Static Document Shredders. They are committed to the security of their customer's documents, and have recently invested in this commitment, with the purchase of a new Shred-Tech MDS-18GT Mobile Document Shredder.
The MDS-18GT has the Shred-Tech patented tunnel lift system, which prevents access to their customer's confidential documents during shredding, which it carries out at a rate of up to 2,041kg/hr with a storage capacity of up to 6,500kg. This combination allows this single truck to provide service to an increased number of customers during any given time period, routine collections and purges included.
Jimmy Casey, Logistics Manager, comments:
"We have successfully operated Shred-Tech equipment for over 7 years and are very pleased with the shredding performance and after-sales service support offered by Global Recycling Solutions Ltd; the latest shredding truck is no exception."
You don't have to take just our word on how powerful and effective our shredding machines and services are. Take a moment to hear from some of Shred-Tech®'s highly satisfied customers regarding how useful our shredders have been for their companies. Some of these testimonials are from Integra Document Destruction Inc., Shredall, Crown Shredding, A Shred Ahead, Automated Shredding Inc., Incred-a-Shred, and so many more. You can learn more about how Shred-Tech® is always available to help you build and customize the ideal shredding solution that suits your company's applications by contacting our dedicated sales team, who are available 24/7.
Integra Document Destruction Inc.
Integra Document Destruction Inc. was a document shredding company that went from 0 to more than 300 customers in just a year, effectively surpassing all of their sales targets. They credit the reliable and efficient Shred-Tech® equipment for this success in the document shredding and destruction business.
Shredall
Thanks to the increased efficiency and throughput of the ST-35 Industrial Shredder from Shred-Tech®, Shredall was able to change their daily throughput from 11 tons per day to 22 tons per day. This shredder, along with their latest mobile shredding unit, allows them to work with the most efficient machinery in the market.
Crown Shredding
Crown Shredding, a secure document destruction company, has achieved an average of 44%-45% growth per year within the first four years after working with a smart sales plan and operating with Shred-Tech®'s reliable mobile shredding trucks.
A Shred Ahead
Tom Hanlon and John Chapman, owners of A Shred Ahead, thank Shred-Tech® for providing them with historical and experienced information on how to grow a successful shredding business. They decided to trust the thought-leader and best service provider in the industry, and that was Shred-Tech®.
Shred Secure
Not only has Shred-Tech® provided Shred Secure with some of the best commercial shredding equipment in the industry, but we have also provided the shredding company with superior support and information to keep working as a thriving business.
Automated Shredding Inc.
Shred-Tech® not only provided Automated Shredding Inc. with incredible commercial shredding equipment to optimize their business, but we also offered support in how to get started in the industry, how to estimate jobs, and other important information.
Document and Network Technologies
When Document and Network Technologies wanted to join the data destruction segment of the information destruction industry, they chose to rely on the experts at Shred-Tech® to provide them with a superior shredder machine and support them as a partner in this business.
Adera On-Site Security Shredding
Adera On-Site Security Shredding got their hands on a used Shred-Tech® shred truck and utilized its high-performing shredding strength for 18 months. They were so pleased to realize that the truck required no maintenance during that time and so satisfied with its performance that they bought a brand new truck for their business.
Incred-a-Shred
Jeff Rupp, owner of Incred-a-Shred, a secure on-site document shredding service, shares his experience with his customer success story. He sent one of his workers to a client's site with one of Shred-Tech®'s shredder machines, and he was able to get the job done in under two hours.
Shredding Network
Dana Muller, owner of Shredding Network, emphasizes the speed and efficiency of Shred-Tech®'s shredder machines. She also recounts the main selling factor of her company is the fact that with the Shred-Tech shred truck, her clients can witness the destruction of their documents on site.
Shred Experts
Rosien Watkins recounts about how she and her husband were able to get Shred Experts, a secure mobile document destruction business, off the ground after visiting a Shred-Tech® facility and gaining great information, better support, and access to a variety of commercial shredding equipment from our shredding experts.