Shred-Tech® is committed to providing the most efficient and environmentally friendly shredding and collection vehicles available, and we are pleased to introduce new features and equipment that follow Shred-Tech®'s Environmental Stewardship. Combined with our unrivaled global manufacturing footprint and primacy in the North American shredding and recycling industry, we have the capabilities to provide you with the most environmentally conscious solutions while simultaneously improving your ROI and lower your operating costs.
DEDICATED RESEARCH & DEVELOPMENT
Shred-Tech®'s Research & Development department has designed and launched many product improvements and features that have resulted in lower fuel consumption and emissions. For example, by increasing shredder throughput by 650% over the last ten years with a minimal increase in power requirements, a Shred-Tech® MDS-3 requires approximately 1.9 gallons of fuel per ton of paper shredded vs. 9 gallons per ton of paper shredded in the original MDS-20. This also means greatly reduced emissions per ton of paper shredded. Every year the paper shredded and recycled by trucks built by Shred-Tech® saves an estimated 22,700,000 trees.
GALLONS OF FUEL/TON SHREDDED
HP input is directly related to energy consumption. Therefore, Shred-Tech® trucks consume less energy per lb. of paper shredded than any other system on the market.
LOWER EMISSIONS
Shred-Tech® is pleased to announce that all of its latest model shredding and collection trucks run on ULSD (Ultra Low Sulfur Diesel) and B5 Biodiesel and meet the EPA's toughest emissions standards. This allows our customers to continue operating within legal parameters without interruption.
FUEL ECONOMY
To improve fuel economy, all our Shred-Tech® trucks come equipped with a Predictive Idle/Auto Shutdown program that senses low shredder loads to shut off the high engine idle when the shredder is unattended and the hopper is empty. Moments later, the PTO's are turned off along with the engine. This means that your fleet never has to waste fuel or engine hours and you save on energy and cost. The new remote panel start button allows you to restart the truck from the side control panel when you return with more paper to shred, allowing your operators to pick up right where they left off.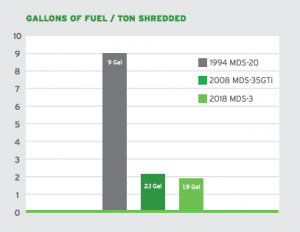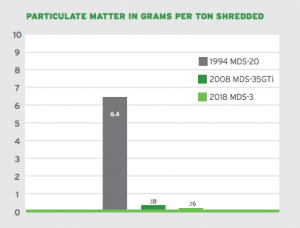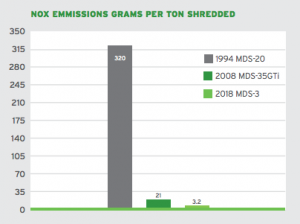 How it Works
5 seconds/low pressure – engine to low idle
60 seconds – PTO's are turned off
125 seconds – engine is turned off
At any time, the engine and shredder can be easily restarted from the operator's control panel.
INTO THE FUTURE
We are busy developing many more fuel-saving and environmentally friendly products and features that will be introduced in the months ahead as we continue to focus on ways to help you grow your business while reducing your carbon footprint. By staying up to date with the constantly evolving environmental regulations and creating more efficient solutions, Shred-Tech® helps you make the most of your business time.