Shred-Tech STQ-100 Industrial Shredder
Car Parts, Passenger Tires, Steel Drums, Plastic Drums, Skids, Fabrics, Steel & Aluminum Stampings, Trim Scrap, Electronics, Pallets, Wood, Hazardous Waste, Sharps, Medical Waste, Data Tapes, Documents, Paper, Metals, Plastics
Heavy-duty applications with material sizes not exceeding 41"X59"
Fed by hand or conveyor
Bin Tipper
2- Drives 150HP-200HP
Request A Quote
Shred-Tech STQ-100 Industrial Shredder
The powerful STQ-100 Industrial Shredder from Shred-Tech® offers some of the highest shredding capacity we offer with a vast range of allowed materials, heavy-duty quad shaft design, and high-performance components to help you take your business to the next level. With the ability to process bulk loads of wood, plastic, metal, paper, E-waste, medical waste, tires, and much more, you have a nearly full-range shredding and recycling solution available for a variety of daily applications. Having a complete solution like the STQ-100 can effectively reduce your operating costs since you don't require multiple shredder types in your facility. Across all material types, this shredder offers an average throughput of up to about 5,055 lbs. per hour, which allows you to manage heavy-duty shredding applications with ease and efficiency. Companies seeking a durable, cost-effective, and complete piece of industrial shredding equipment to help scale their business and open up opportunities for segment diversification can look to the STQ-100 Industrial Shredder as an ideal solution.
The STQ-100 Industrial Shredder permits the largest material size for shredding during the in-feed process at 41" x 59", which allows you to shred more material per day for increased productivity and revenue. This shredder's design creates consistent, uniform shredded material particles for a smooth out-feed process and more predictable and manageable unloading and cleanup. When you purchase the STQ-100 Industrial Shredder, you not only receive a piece of high-performance industrial shredding equipment, but also the dedicated support of Shred-Tech® experts whenever required. With a range of services including maintenance, repairs, parts replacement, financing options, and more, you can count on Shred-Tech® to help drive your business towards profitability and long-term success. The STQ-100 also comes standard with a 1-year or 2,000-hour warranty to protect your investment.
Applications
The STQ-100 Industrial Shredder can be used for the following applications:
Standard Features for the STQ-100
The STQ-100 Industrial Shredder gets its excellent reputation from the combined performance capabilities of its standard features and components. This shredder comes complete with a range of high-quality components that work seamlessly together to provide an exceptional shredding experience, including a super-tough construction with easy-maintenance parts, sharp cutting knives, sturdy hex shafts, and a convenient rollout screen design. These features combined produce a heavy-duty industrial shredder with the power, efficiency, and long-lasting performance required to get ahead of the competition and solidify success and profitability for years. No other extra features or components are necessary to make the STQ-100 a complete and highly efficient shredding and recycling solution for your business, so you can start generating revenue as soon as it's in your facility.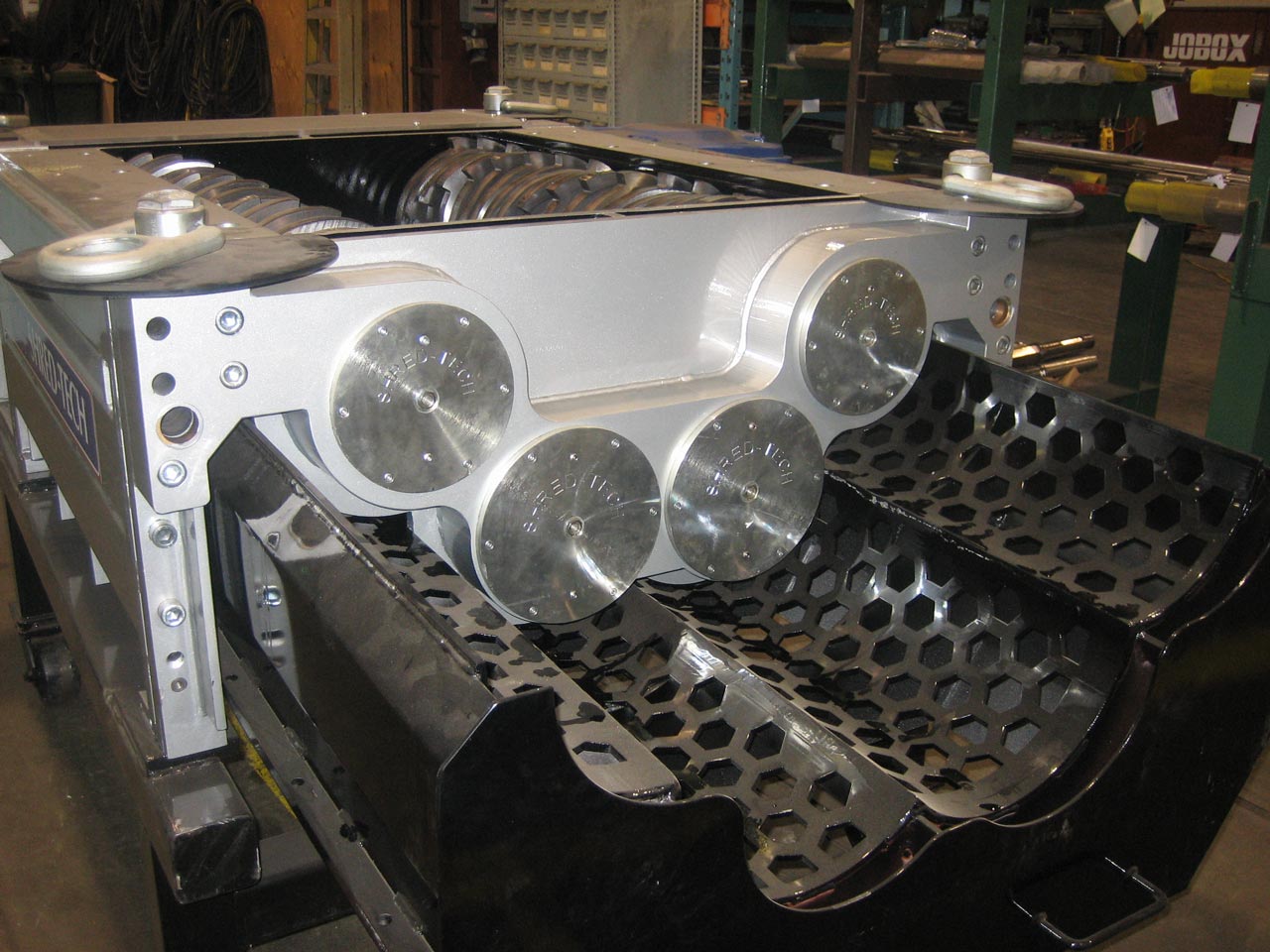 Construction
Powerful, hassle-free operation of the STQ-100 Industrial Shredder is fully achieved thanks to its heavy-duty construction, which is based on Shred-Tech®'s own standard torsion tube body design. Furthermore, low noise and vibration as well as significantly reduced wear and maintenance costs are all possible with the STQ-100 via a proprietary triple seal cutting chamber, abrasion-resistant wear components, and super-high knife tip cutting force.
A simplified modular construction on the STQ-100 increases parts commonality and decreases the number of major components to allow for extremely convenient maintenance and repair with reduced spare parts requirements. Superior bearing and seal protection are permitted via sturdy bulkhead walls and labyrinth barriers at either cutting chamber end, while no gearbox disassembly is required to replace the bearing and seal, helping you save even more time and money on maintenance and repairs. A lightweight chamber plate design further allows for the cutting chamber to be quickly and easily disassembled.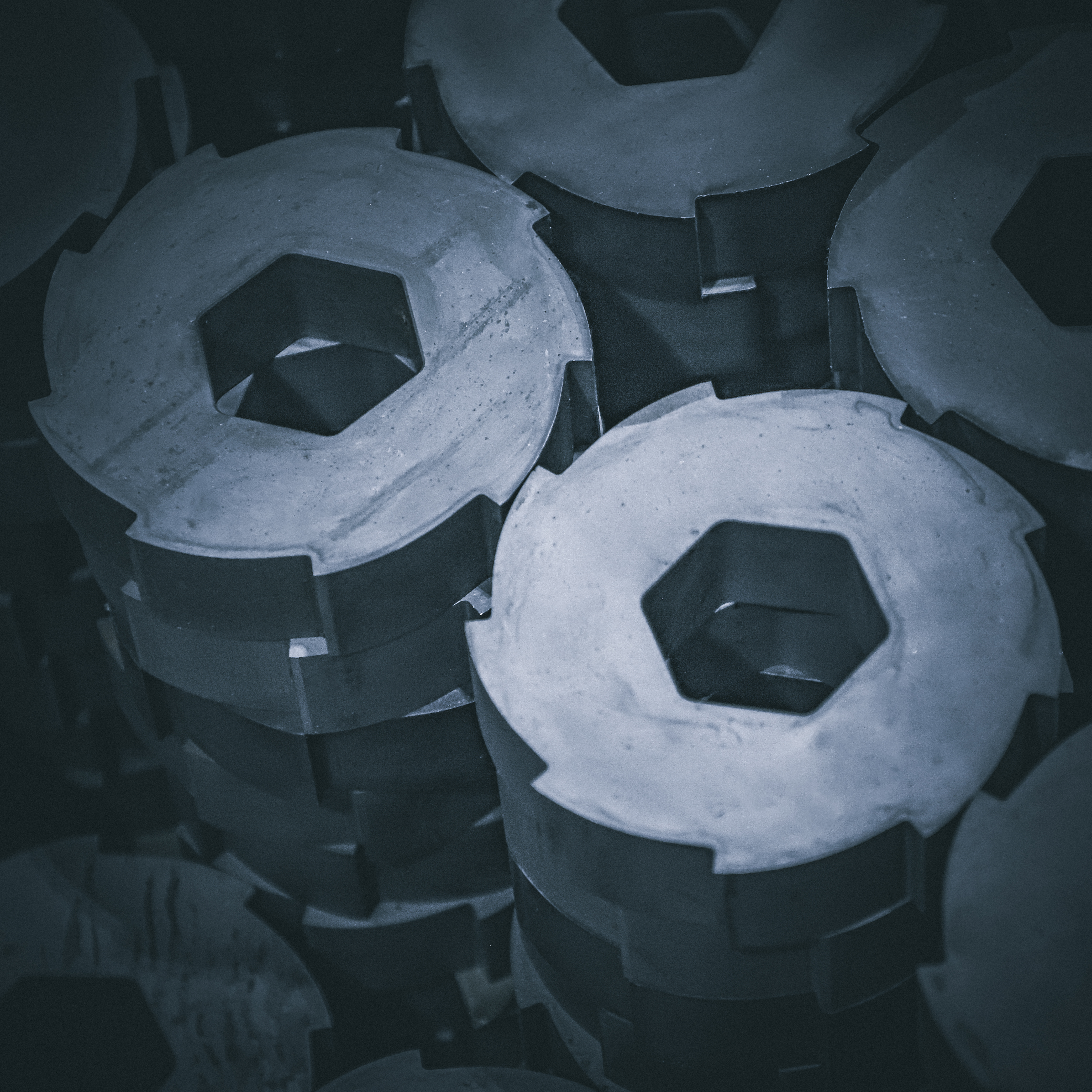 Knives
The STQ-100 Industrial Shredder's main power comes from its quad-motor shredder, while its ability to carve smoothly and consistently through a wide range of materials is all thanks to its set of heavy-duty and super-sharp shredding knives. Thanks to the perfect sharpness of every knife, the shredder can operate at high capacity to keep up with demand. The shredder achieves high throughput and efficiency throughout the entire shredding process with a variety of materials and even produces the smallest possible scrap particle size with uniformity and consistency. Depending on the type of STQ-100 model purchased, knife thicknesses are 7/8", 1 3/16", and 1 1/2", and the number of knives for each size ranges from sets of 96, 64, and 48; 120, 80, and 60; or 144, 96, and 72.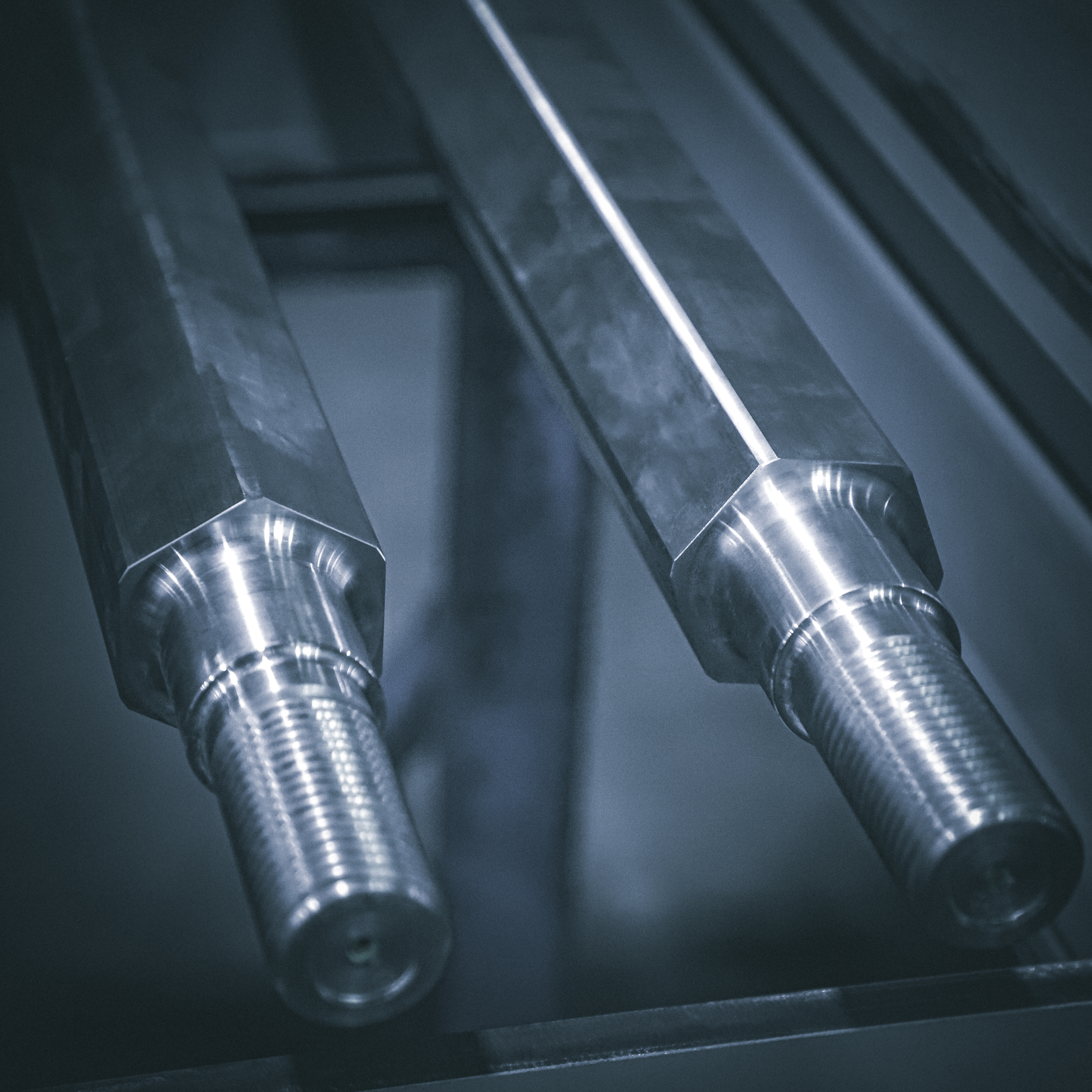 Hex Shafts
The STQ line of shredders wouldn't be as powerful as it is without super-tough and reliable hex shafts and drive systems. Maintenance-friendly and featuring fast and simple component changes, these four hex shafts stand up to regular use and ensure you have shredding power for years to come. Additionally, Shred-Tech® provides you with the highest knife-tip cutting force of any comparable industrial shredder on the market with the high-quality hex shaft design of the STQ-100 for maximum power.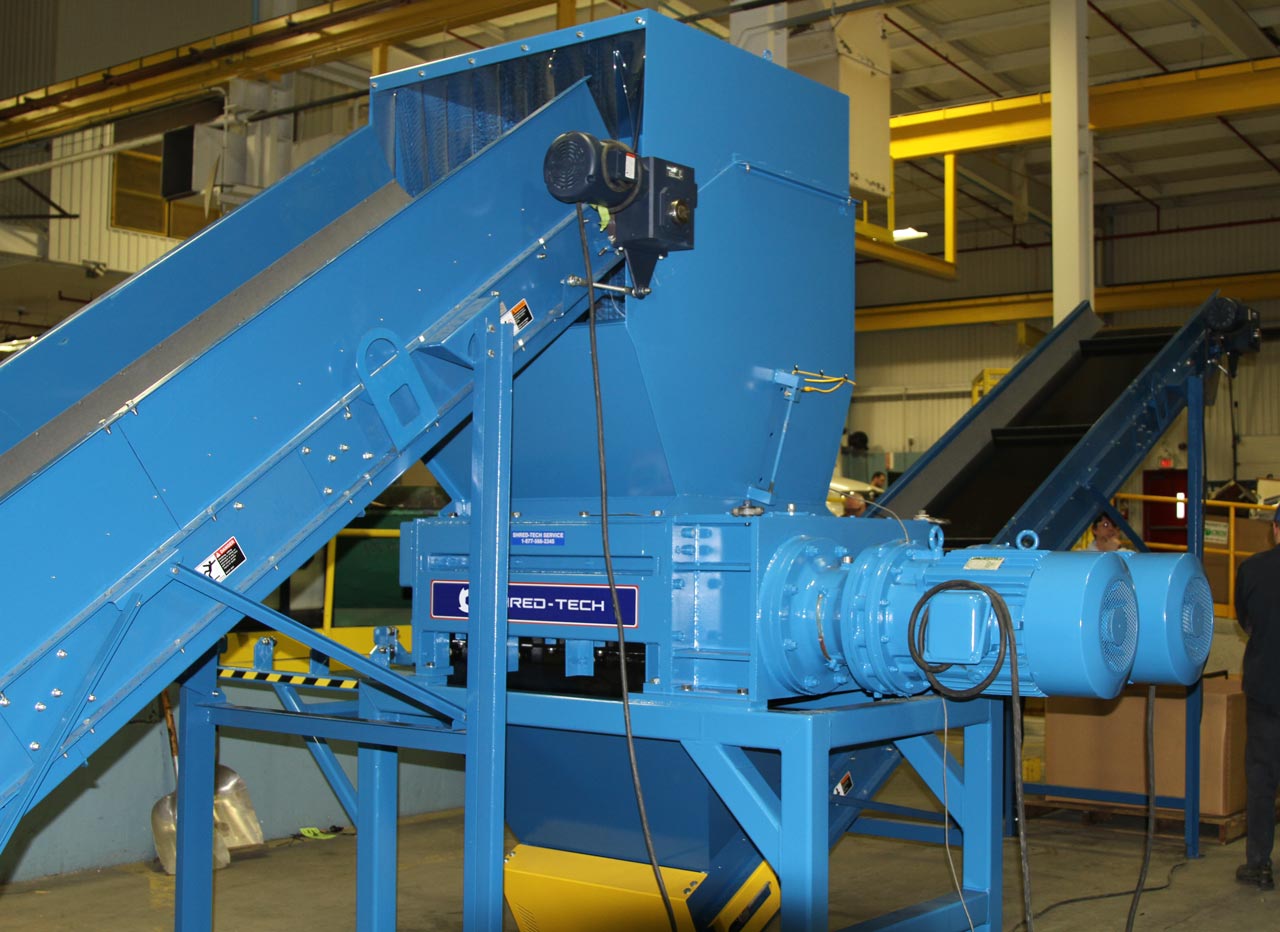 Rollout
The STQ-100 Industrial Shredder has been specially designed for optimized shredding efficiency, strength, low operating costs, and high ROI that can help push your business to new heights, and that care for engineering and design applies even to the rollout screens. Easily removed from the shredder, the rollout screens on this industrial shredder can be quickly cleaned and reinstalled. Different sized screens can also be swapped in and out with both speed and ease.
Optional Accessories for the STQ-100
Shred-Tech® has taken special care to ensure the STQ-100 Industrial Shredder is a complete shredding solution and has all the high-quality features necessary to drive profits and push your business past the competition, however, we even offer optional accessories for the STQ-100 so you can customize your model to perfectly match your own applications and requirements. Complete equipment integration, conveyors, separating components, and more are all available to be added to your shredder to enhance durability, efficiency, and convenience. Get in contact with us today if this list doesn't include an option you need, and we'll work directly with you to create a customized shredding solution that can help you drive profits and grow your business for the long-term!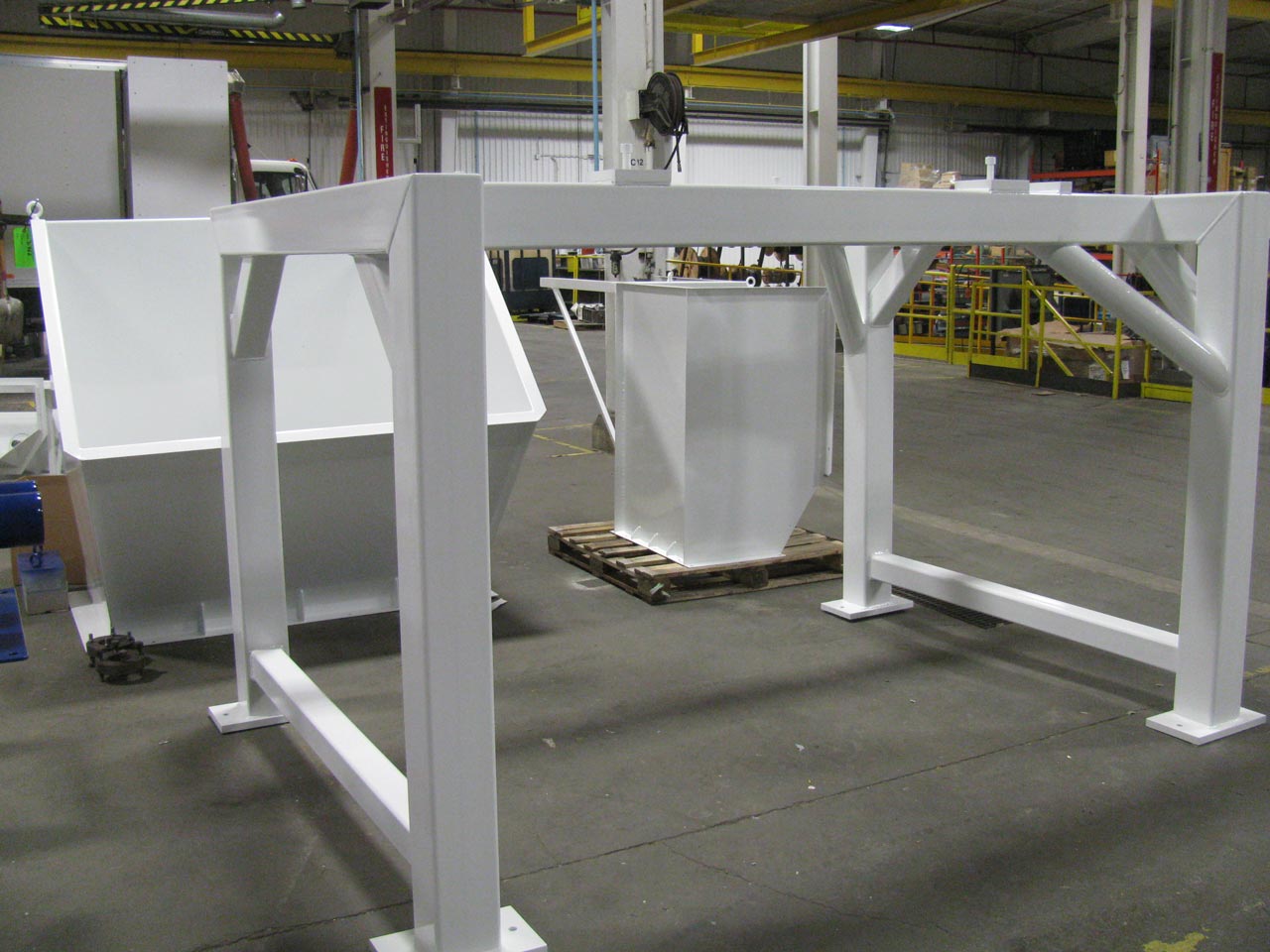 Custom Stands and Hoppers
If you're looking to raise your STQ-100 off the ground, then adding a custom stand to match your facility can help. Adding a stand can allow enough clearance for shredded material to fall onto downstream equipment like a conveyor, or drop into a container, thus allowing you to keep material flowing smoothly and keep your facility free of debris. For smoother and more efficient in-feeding during the loading process, custom hoppers can be added to the STQ-100. Easily installed, these hoppers feed material smoothly into the shredder and can even be paired with a conveyor or other peripheral equipment of your choosing. Choosing the right hopper for your industrial shredder can help the shredding process remain seamless and without blockages or buildup during in-feeding.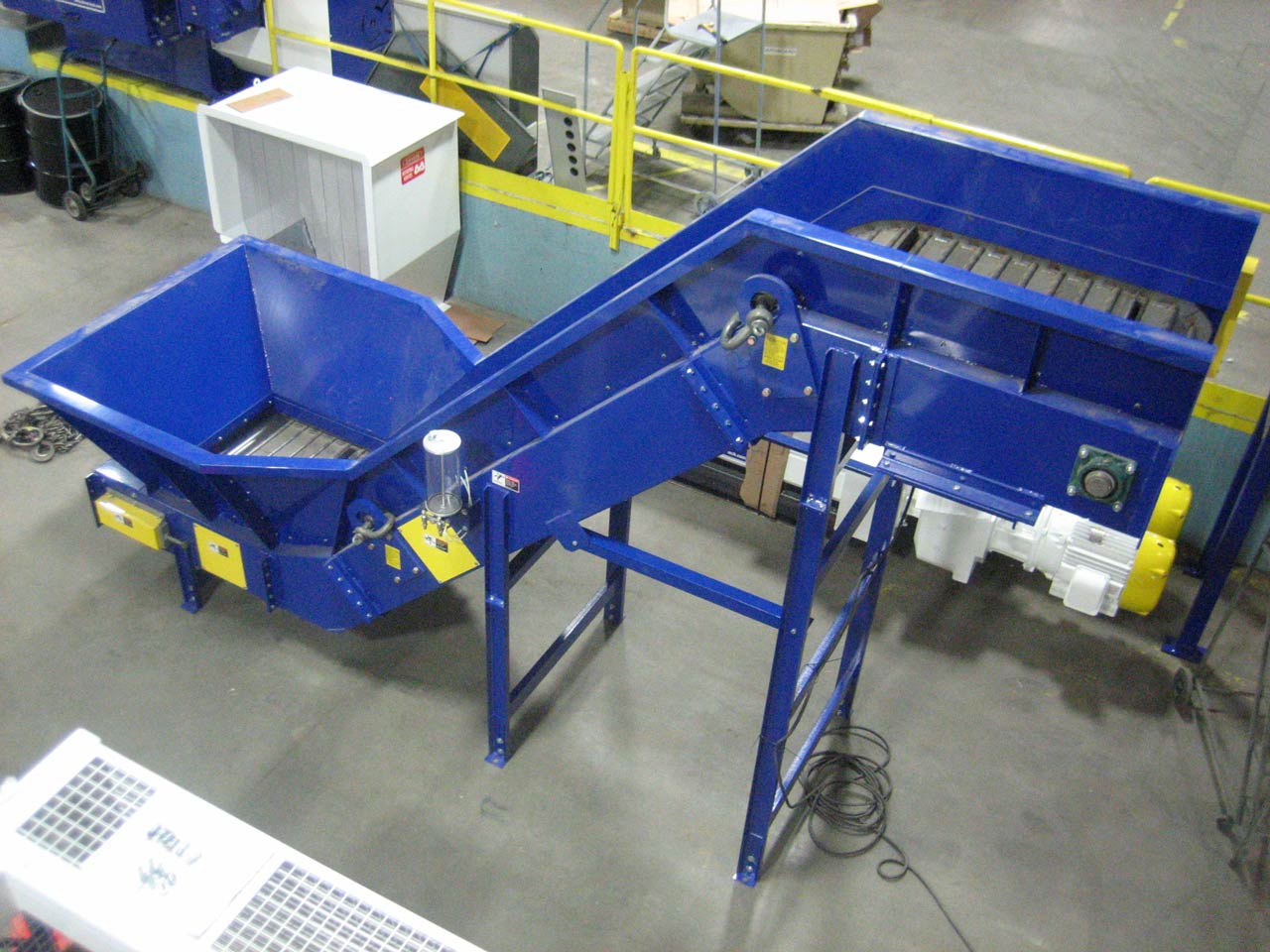 In-Feed and Out-Feed Conveyors
Choose to add an in-feed conveyor, out-feed conveyor, or both to your STQ-100 Industrial Shredder to optimize loading and unloading efficiency and convenience. Operators at your facility can quickly shred large quantities of material thanks to the generous speed of the conveyors as well as the power of the shredder itself. Automating both in-feeding and out-feeding can create the highest possible efficiency for the entire shredding process and improve both workflow and cashflow for your business.