Shred-Tech STQ-50 Industrial Shredder
Car Parts, Electronics, Pallets, Wood, Hazardous Waste, Sharps, Medical Waste, Data Tapes, Documents, Paper, Metals, Plastics
Medium-duty applications with material sizes not exceeding 28"X49"
Fed by hand or conveyor
Bin Tipper
2- Drives 100HP
Request A Quote
Shred-Tech STQ-50 Industrial Shredder
Powerful shredding is right within your grasp once you acquire the high-performing Shred-Tech® STQ-50 Industrial Shredder for your business. This powerful machine is more than capable of handling the intense workflow of the industry and keeping up with constant demands so you can easily outperform your competitors. It is designed by our expert engineers to process bulk materials, which include plastics, wood, textiles, organic waste, medical waste, electronic equipment, and more. The blades within the shredder bite through and rip apart the products, rendering them into a uniform particle size in a single pass. It works in an efficient and timely manner, getting more done so that you can do more.
The STQ-50 Industrial Shredder operates with a medium-duty throughput of up to 1-3 tons per hour, offering you efficient and effective shredding throughout its service. It works with 28" x 49" sized materials to reduce them into consistently sized pieces of scrap for further processing and use. Built for durability as well as ease of operation, the industrial shredder features simplified modular construction that reduces the number of major components while increasing parts commonality, thus helping to reduce spare parts requirements. The bulkhead walls and labyrinth barriers are located on each end of the cutting chamber for bearing and seal protection. Replacement for the bearing and seal is easily done without the need of gearbox disassembly. The STQ-50 Industrial Shredder comes with a 1-year or 2,000-hour warranty to protect your investment, and our engineers are easy to contact should you need assistance with maintenance, service, or spare parts.
Applications
The STQ-50 Industrial Shredder can be used for the following applications:
Standard Features for the STQ-50
The STQ-50 Industrial Shredder is designed to process bulk materials and products and reduces them to a uniform particle size in a single pass, and a variety of standard features help enhance the shredder's performance. These components work together to ensure that your business experiences powerful and efficient shredding to suit your applications and exceed your expectations. This high-performing shredder machine features robust construction, highly sharp cutting knives, durable hex shafts, and a convenient rollout screen. The machine outperforms in the shredding industry as it easily handles day-to-day applications with improved efficiency.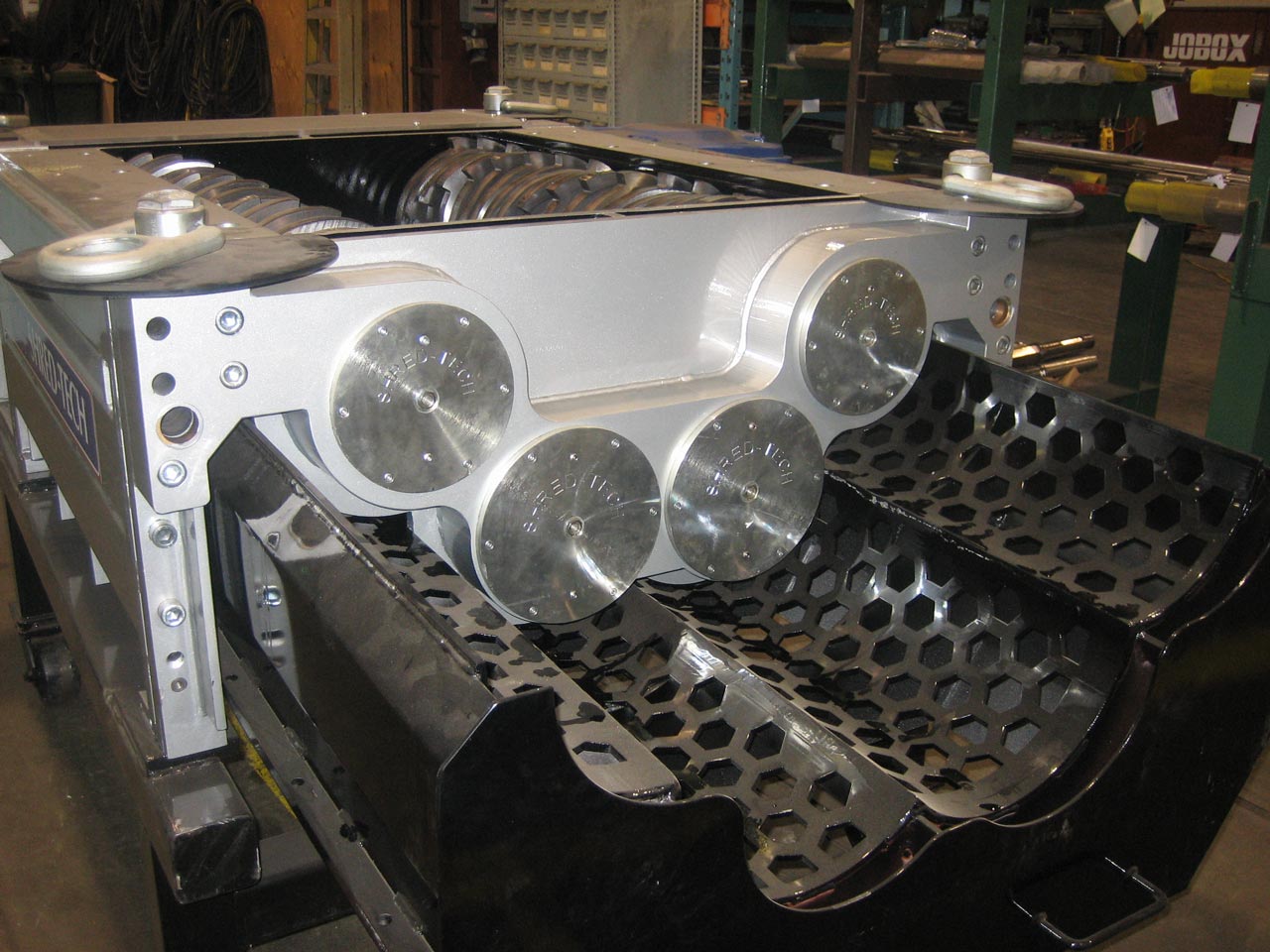 Construction
For maximum heavy-duty durability, the STQ-50 Industrial Shredder features high-quality construction based on Shred-Tech®'s standard torsion tube body concept, which ensures reliable robustness and trouble-free operation. Built by our highly skilled engineers, the body of our shredder machine can endure daily use while keeping up with the demands of the industry. Our proprietary triple seal cutting chamber is equipped with abrasion resistant wear components along with exceptionally high knife tip cutting force. These features combine to effectively ensure a number of advantages, including low noise and vibration, reduced wear, and decreased maintenance costs.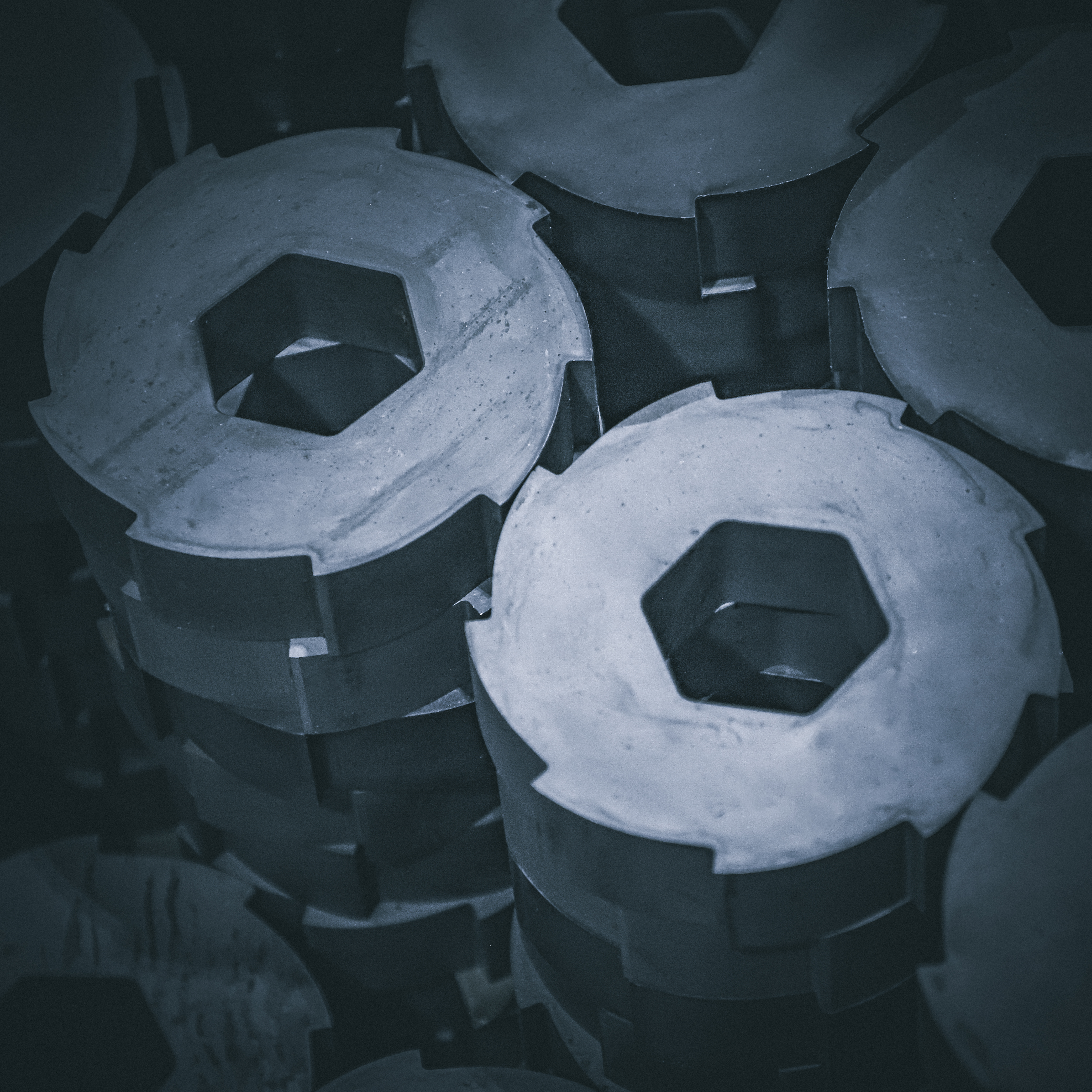 Knives
For optimal cutting performance, the industrial shredder is equipped with several extremely sharp and high-quality knives. These heavy-duty shredding knives are engineered with the ideal sharpness needed to obtain high throughput while producing optimal shred size for maximized efficiency. This shredder is equipped with a full set of knives that varies depending on which type of STQ-50 Industrial Shredder you choose. Depending on the model, the knives range from sets of 72 and 48; 96 and 64; or 120 and 80, with a thickness ranging between 7/8" and 1 3/16".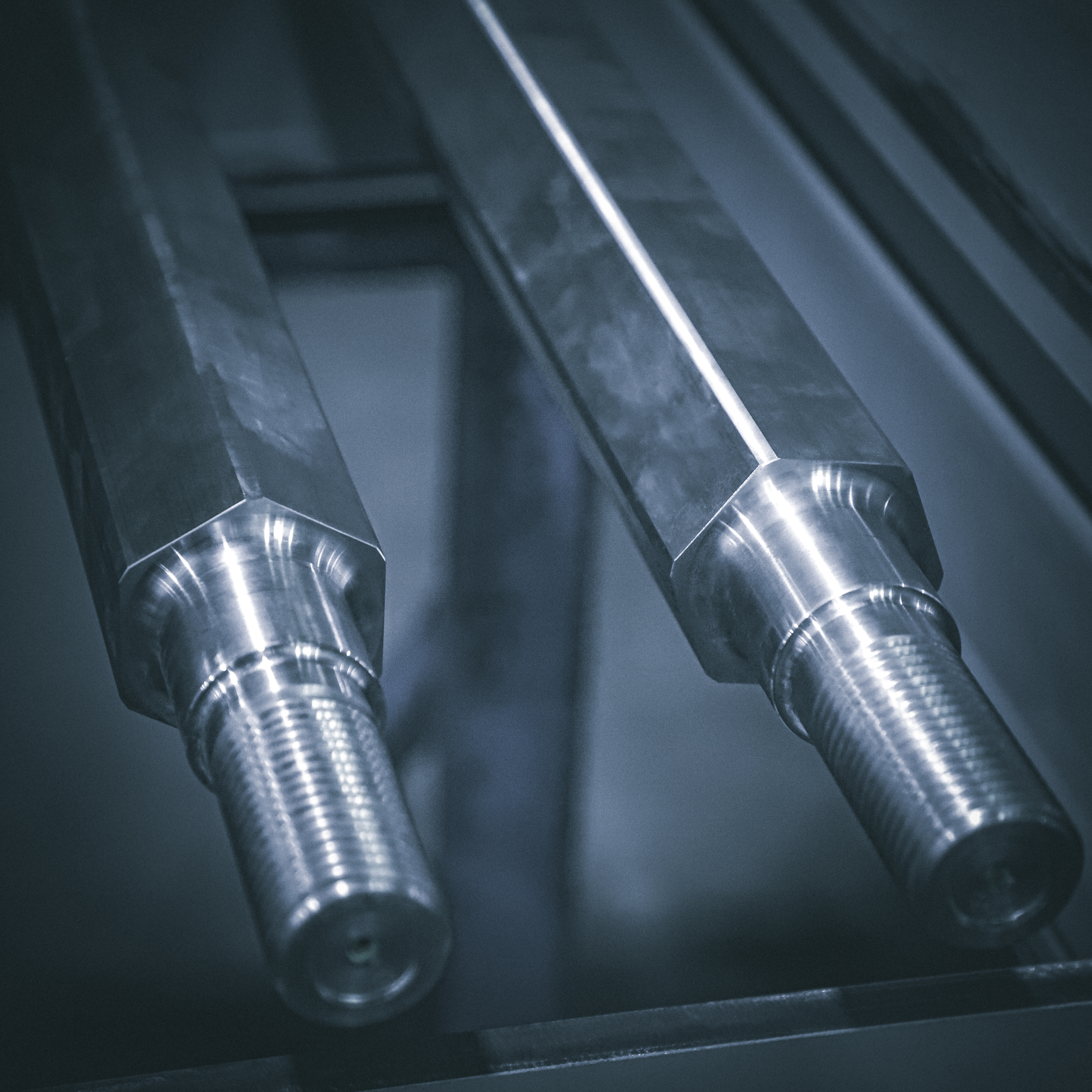 Hex Shafts
At the very heart of the STQ-50 Industrial Shredder is our highly durable and effective hex shafts and robust drive system. The hex shaft ensures years of reliable service, providing constant strength throughout its lifespan. Manufactured for durability, the hex shaft can withstand the challenges of the industry. Our team of dedicated engineers have built the industrial shredder with a focus on easy maintenance, allowing for quick and easy change of components, such as swapping out knives to better suit the application.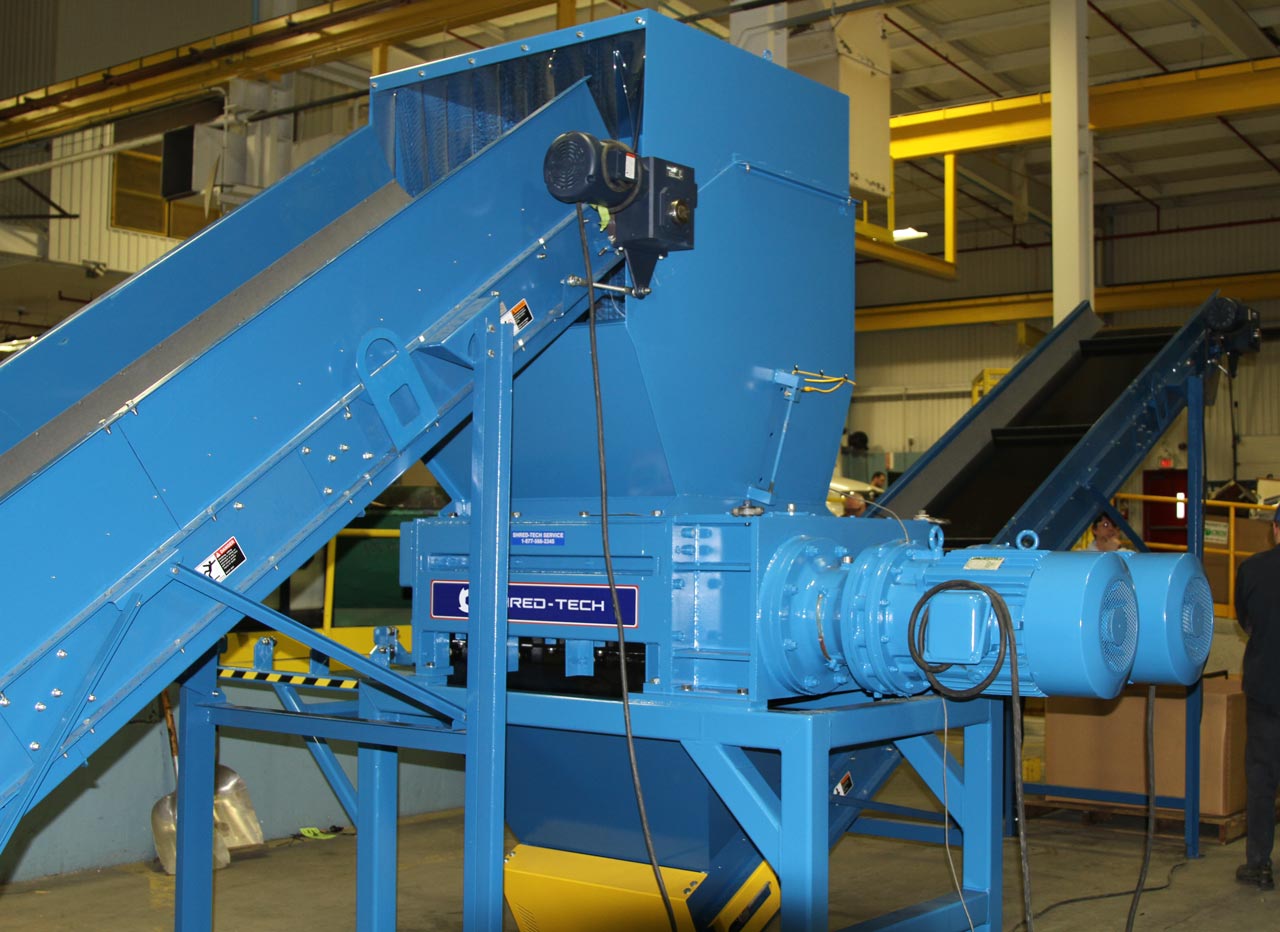 Rollout
For superior ease and efficiency for the STQ-50 Industrial Shredder, the shredder machine is equipped with easy-to-use rollout screens. These screens are designed to be easily removable from the end of the shredder for quicker management. It also allows for fast and simple screen cleaning while also giving you the ability to efficiently swap out the screens for alternate sizes when dealing with different applications. This can save your workers plenty of time that can be spent operating the machine and generating revenue.
Optional Accessories for the STQ-50
A wide range of optional accessories are also available for the STQ-50 Industrial Shredder in order to fully customize this versatile machine to suit your ideal specifications. Each component is designed to enhance the overall performance of the shredder machine so that it provides you with optimized serviceability. We offer a range of accessories to improve support and convenience for the entire shredding system, including tough hoppers, durable stands, and highly efficient and easy-to-use in-feed and out-feed conveyors, among others. For more information on how Shred-Tech® can help you customize the ideal shredder machine that fits your requirements, you can contact our 24/7 team today!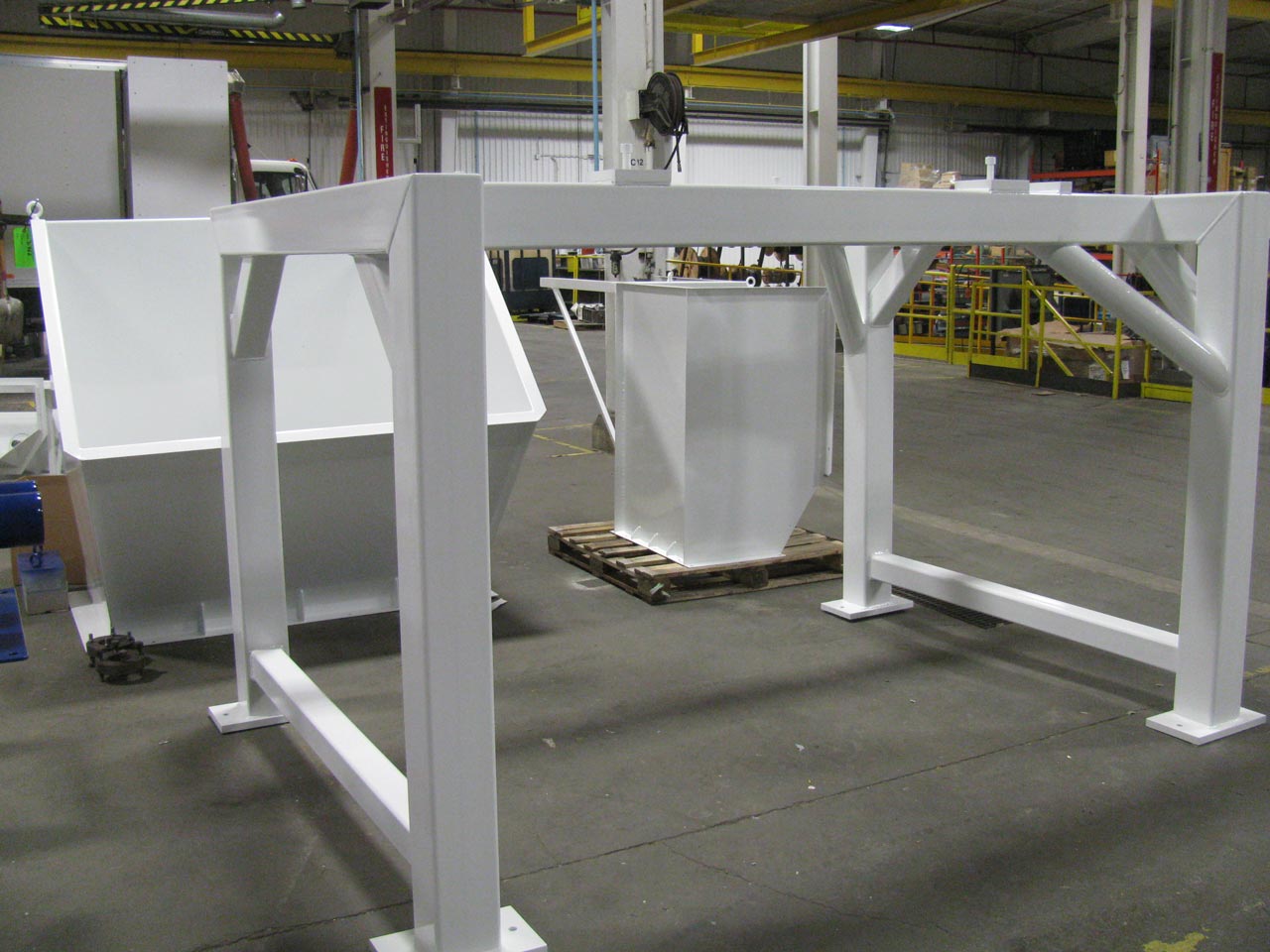 Custom Hopper and Stand
A customized hopper can be easily added right onto the STQ-50 Industrial Shredder. It is designed to facilitate consistent in-feeding of material to the shredder without the risk of buildup or blockage. Built with durability in mind, the hopper endures heavier loads with ease. For additional support, we offer a reliable custom stand as an optional accessory for the STQ-50 Industrial Shredder. This heavy-duty stand has the right amount of strength needed to maintain a secure hold on the shredder machine, offering optimal support that increases the stability for applications that require the shredder to be off the ground. Stands also allow shredded material to fall via gravity onto downstream equipment such as an out-feed conveyor for easy unloading.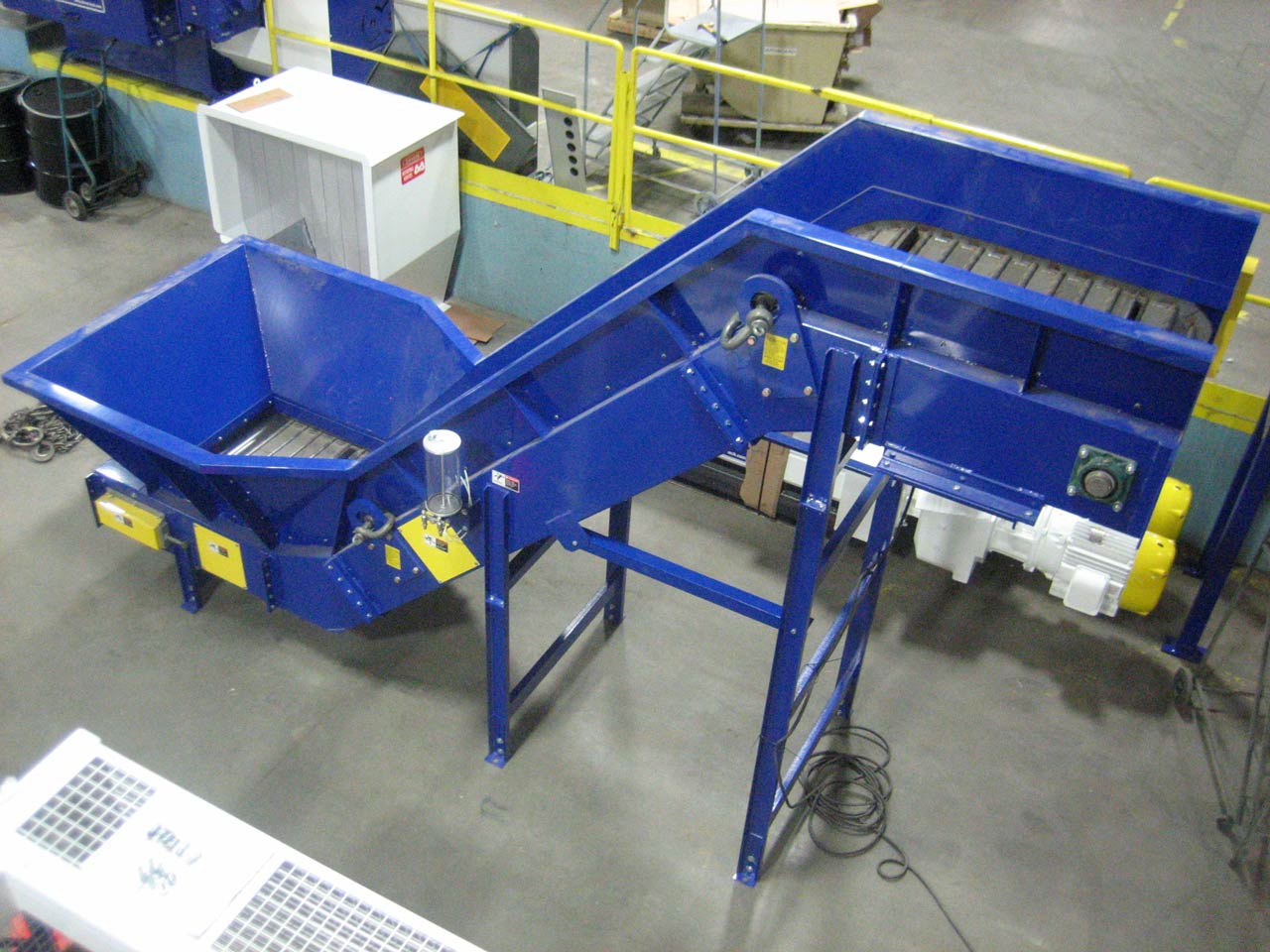 In-Feed and Out-Feed Conveyors
For maximized efficiency, we recommend that you choose to include an in-feed conveyor, out-feed conveyor, or both. These conveyors are designed to automate the loading and unloading process to offer you a higher level of efficiency for much smoother operation. While the in-feed conveyor safely transports the products to the shredder, keeping your workers away from the blades, the out-feed conveyor transfers the shredded material away from the machine, which can then be dumped into a bin or other collection container. With the help of these conveyors, you can experience an increase in productivity and workflow.