Shred-Tech STQ-75 Industrial Shredder
Car Parts, Steel Drums, Plastic Drums, Skids, Fabrics, Steel & Aluminum Stampings, Trim Scrap, Electronics, Pallets, Wood, Hazardous Waste, Sharps, Medical Waste, Data Tapes, Documents, Paper, Metals, Plastics
Medium/Heavy-duty applications with material sizes not exceeding 35"X58"
Fed by hand or conveyor
Bin Tipper
1- Drive 60HP-80HP
Request A Quote
Shred-Tech STQ-75 Industrial Shredder
The super-tough STQ-75 Industrial Shredder from Shred-Tech® is an excellent choice for shredding and recycling companies focused on improving workflow efficiency, lowering operating costs, and obtaining a high ROI on high-quality equipment. This shredder is designed to process bulk materials including wood, plastics, textiles, electronic equipment, medical waste, organic waste, manufactured products, and various other materials, reducing them to a uniform particle size in a single pass using its quad-shaft design. It does more so you can do more! The STQ-75 has been engineered to optimize high-volume shredding for its size and offers an impressive average throughput across all material types of up to about 3,055 lbs. per hour for effective medium-duty shredding applications. By utilizing the heavy-duty construction, high power, and swift operation of the STQ-75, you can effectively reduce your footprint while increasing productivity for improved revenue.
At Shred-Tech®, we're known for putting quality, efficiency, and usability at the forefront of our design philosophy, and the STQ-75 is no exception. Capable of shredding through material up to a size of 35" x 58", this industrial shredder machine thoroughly destroys the fed material and turns it into consistently sized pieces of scrap. With Shred-Tech® equipment, not only do you get powerful equipment, but also a dedicated team of experts ready to assist you with maintenance, repairs, parts replacement, financing, and more! Your purchase of an STQ-75 Industrial Shredder also comes with a 1-year or 2,000-hour warranty to protect your investment.
Applications
The STQ-75 Industrial Shredder can be used for the following applications:
Standard Features for the STQ-75
Shred-Tech® has equipped the STQ-75 Industrial Shredder with an abundance of standard features that all combine to help create a powerful, efficient, and easy-to-use shredding solution you can depend on for years to come. Featuring a sturdy and easy-to-maintain construction, super-sharp cutting chamber knives, durable hex shafts, and a convenient rollout screen design, this shredder machine has the high-performance capabilities required to handle daily industrial shredding applications. As a complete shredding solution, the STQ-75 doesn't require any additional features or equipment to operate effectively, meaning you can get started with operation right away.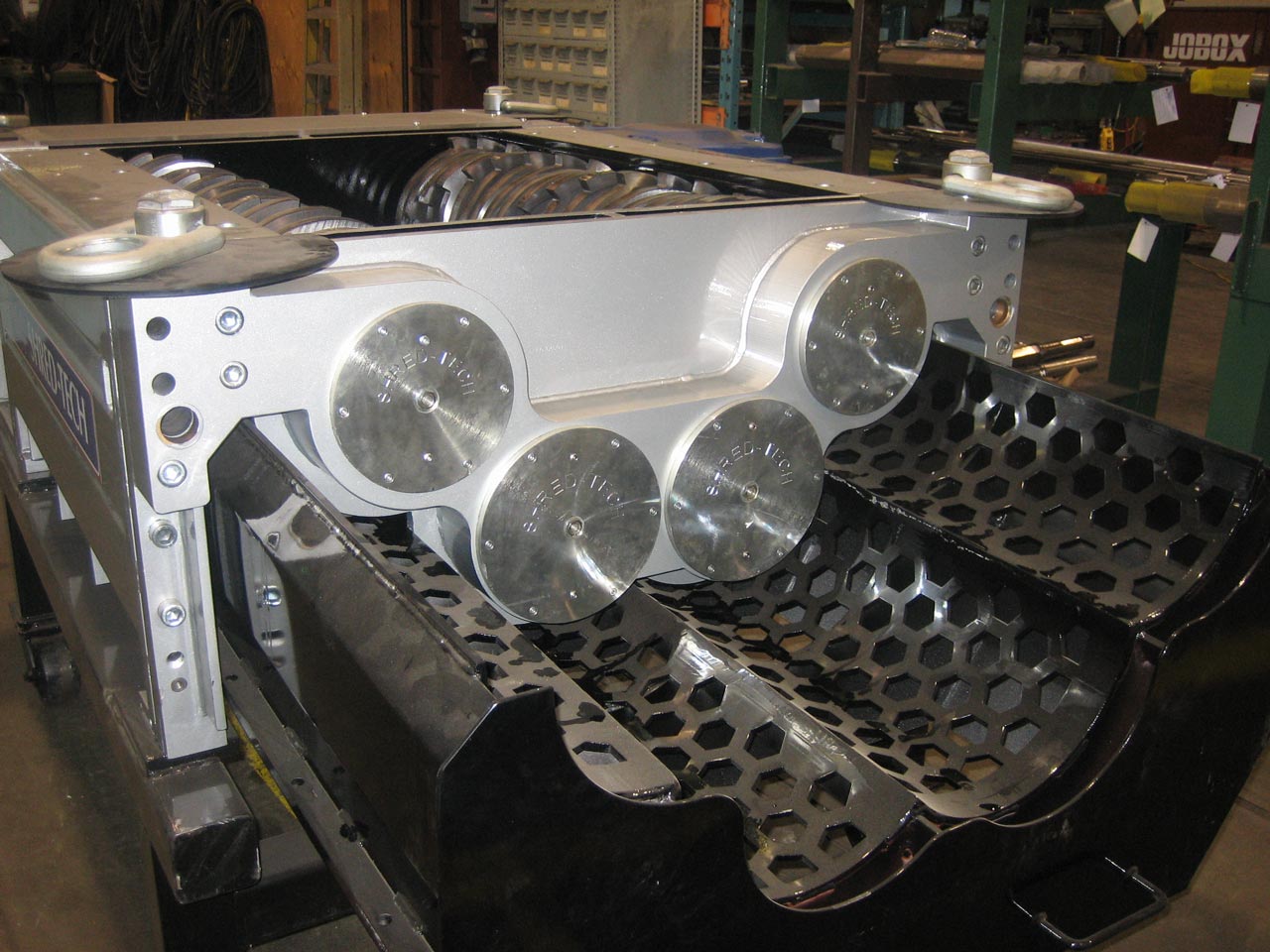 Construction
Heavy-duty construction based around Shred-Tech®'s standard torsion tube body concept ensures robust, trouble-free operation of the STQ-75. Our proprietary triple seal cutting chamber, abrasion-resistant wear components, and exceptionally high knife tip cutting force ensure low noise and vibration, reduced wear, and decreased maintenance costs.
In fact, maintenance of the STQ-75 is further enhanced thanks to simplified modular construction, which reduces the number of major components and increases parts commonality, thus reducing spare parts requirements. Bulkhead walls and labyrinth barriers at either end of the cutting chamber provide excellent bearing and seal protection, while a lightweight chamber plate ensures cutting chamber disassembly is quick and easy. Bearing and seal replacement is also easily completed without the need of gearbox disassembly for high savings on both time and cost for maintenance and repairs.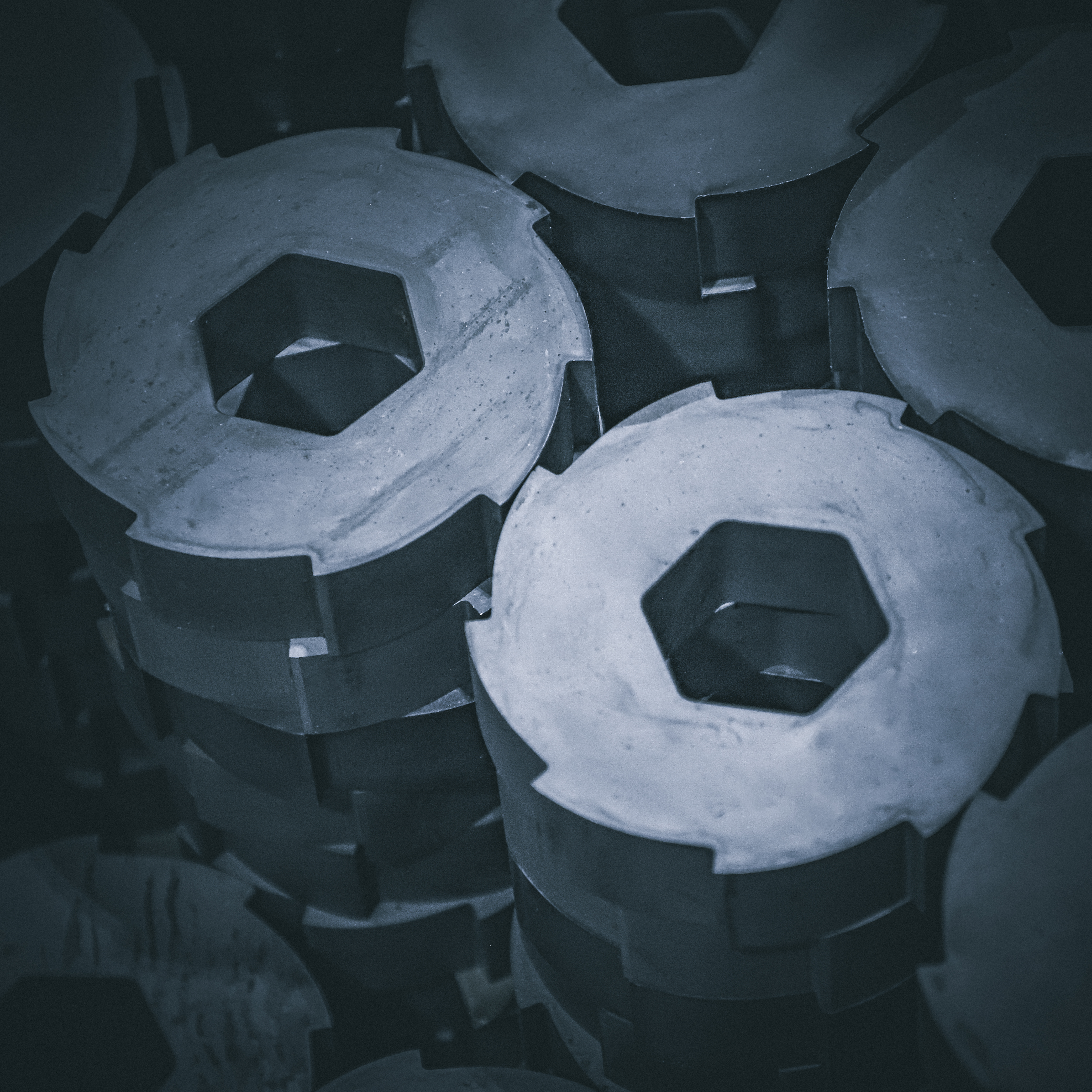 Knives
In order to allow for optimal and thorough destruction of all applicable materials fed into the shredder, the STQ-75 boasts heavy-duty shredding knives. Each knife has been engineered and manufactured with the perfect sharpness to permit high throughput and produce the smallest possible scrap particles to maximize efficiency. Depending on the type of STQ-75 model purchased, knife thicknesses are 7/8", 1 3/16", and 1 1/2", and the number of knives for each size ranges from sets of 96, 64, and 48; 120, 80, and 60; or 144, 96, and 72.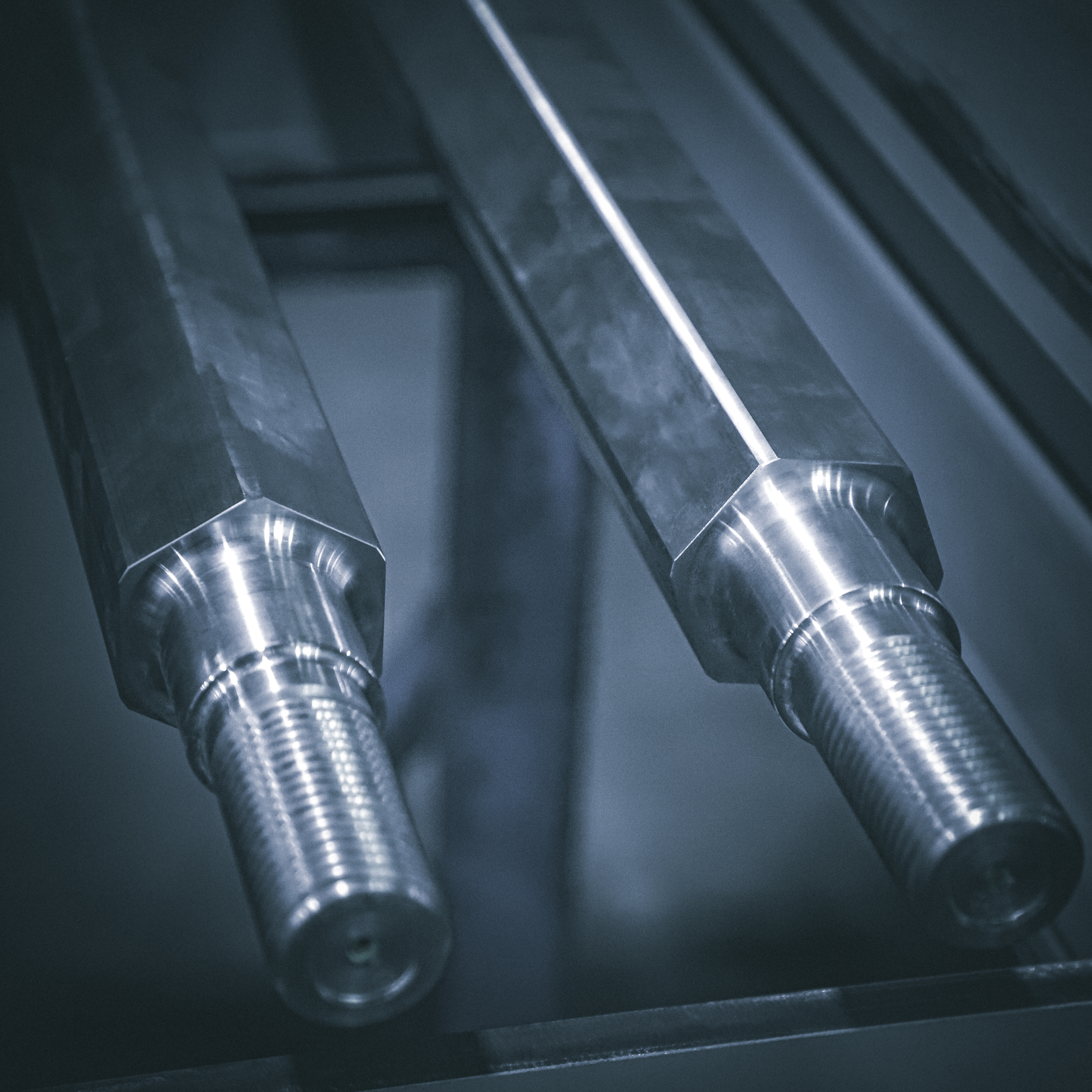 Hex Shafts
Shred-Tech®'s standard durable hex shafts and robust drive systems are at the heart of the STQ line of shredders, ensuring years of reliable service. Engineers have focused a high degree of attention on building a line of four shaft shredders that are maintenance-friendly and allow for quick and easy component changes. Thanks to a carefully engineered design, the hex shafts on the STQ-75 provide the highest knife-tip cutting force of any comparable industrial shredder available.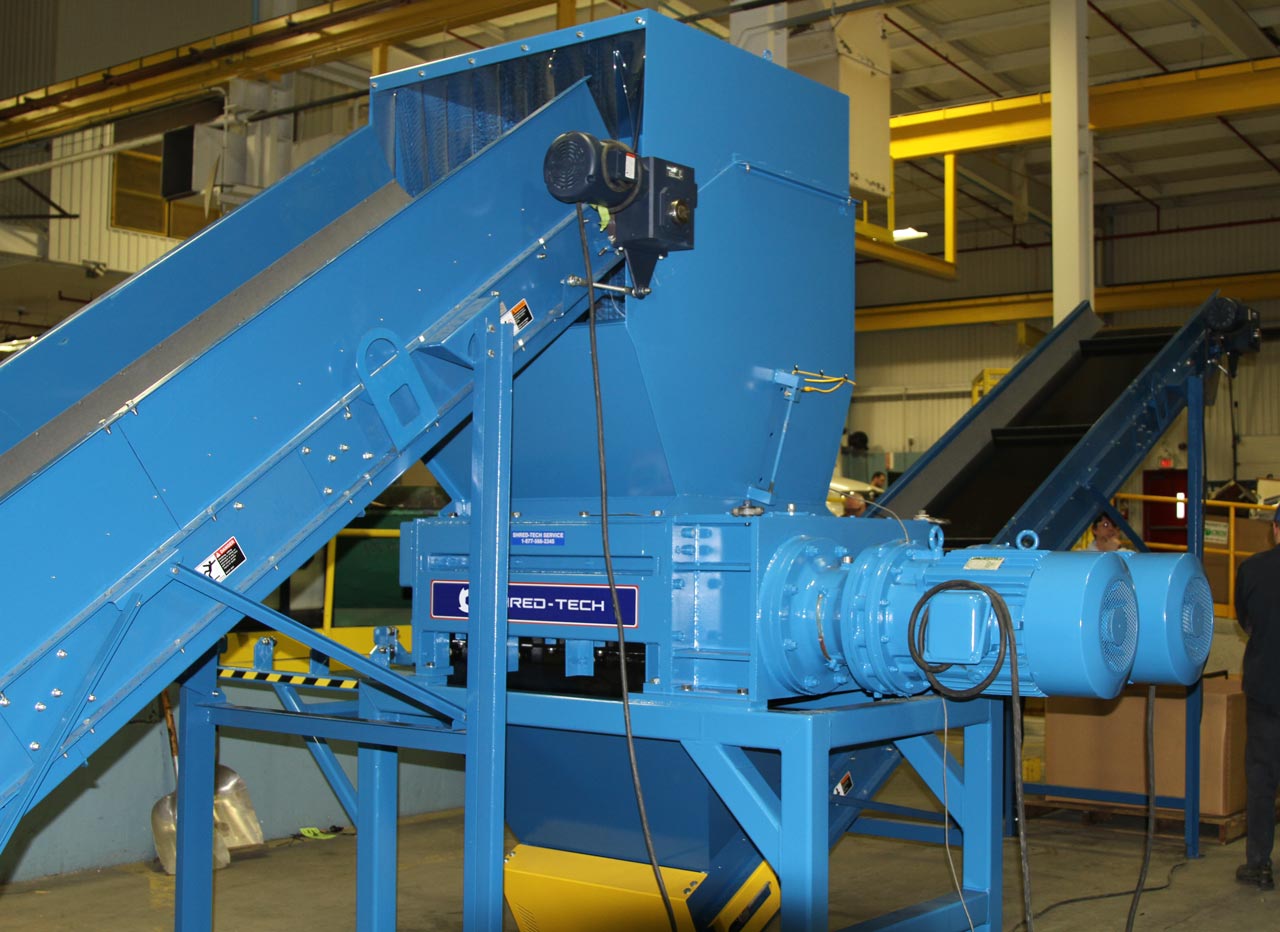 Rollout
Shred-Tech® focused on ease of use and high productivity when designing the STQ-75 Industrial Shredder to make it an excellent choice for lowering operating costs and driving profits, and that level of focus and care even goes down to the shredder's rollout screens. Rollout screens on the STQ-75 are easily removed from the end of the shredder. This allows for quick and easy screen cleaning as well as the ability to efficiently swap out the screens for alternate sizes.
Optional Accessories for the STQ-75
If the standard features of the STQ-75 Industrial Shredder don't exactly match your requirements, or if you're looking for a shredder that's outfitted with even more quality-of-life enhancements, efficiency, and durability, then you can choose from a list of excellent optional accessories. Whether you require complete equipment integration, conveyors, separating components, or more, Shred-Tech® has got your back. If the list of options here still doesn't meet your requirements, get in contact with us today and we'd be glad to help you design a custom shredding solution that perfectly meets your application and can drive your business forward for years!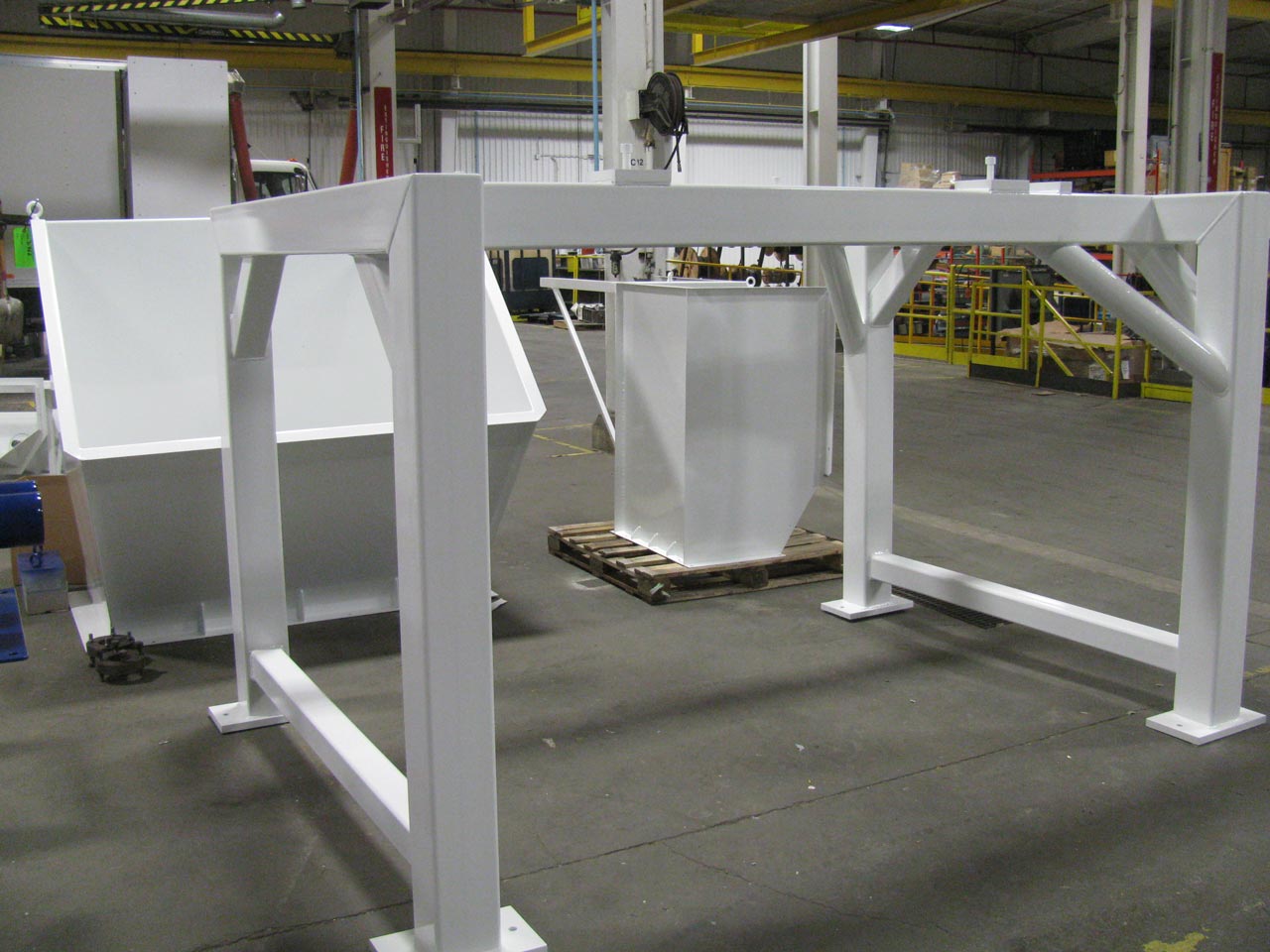 Custom Stands and Hoppers
Adding custom stands can help you raise the shredder off the ground to create plenty of clearance for shredded material to drop via gravity into a container or onto downstream equipment like a conveyor. This can be great for facilities looking to streamline the entire shredding process. Custom hoppers can be easily added to the STQ-75 to create smoother in-feeding via a conveyor or other peripheral equipment. This option can help you make the most efficient use of your facility space and ensure consistent in-feeding of material to the shredder while preventing buildup or blockage.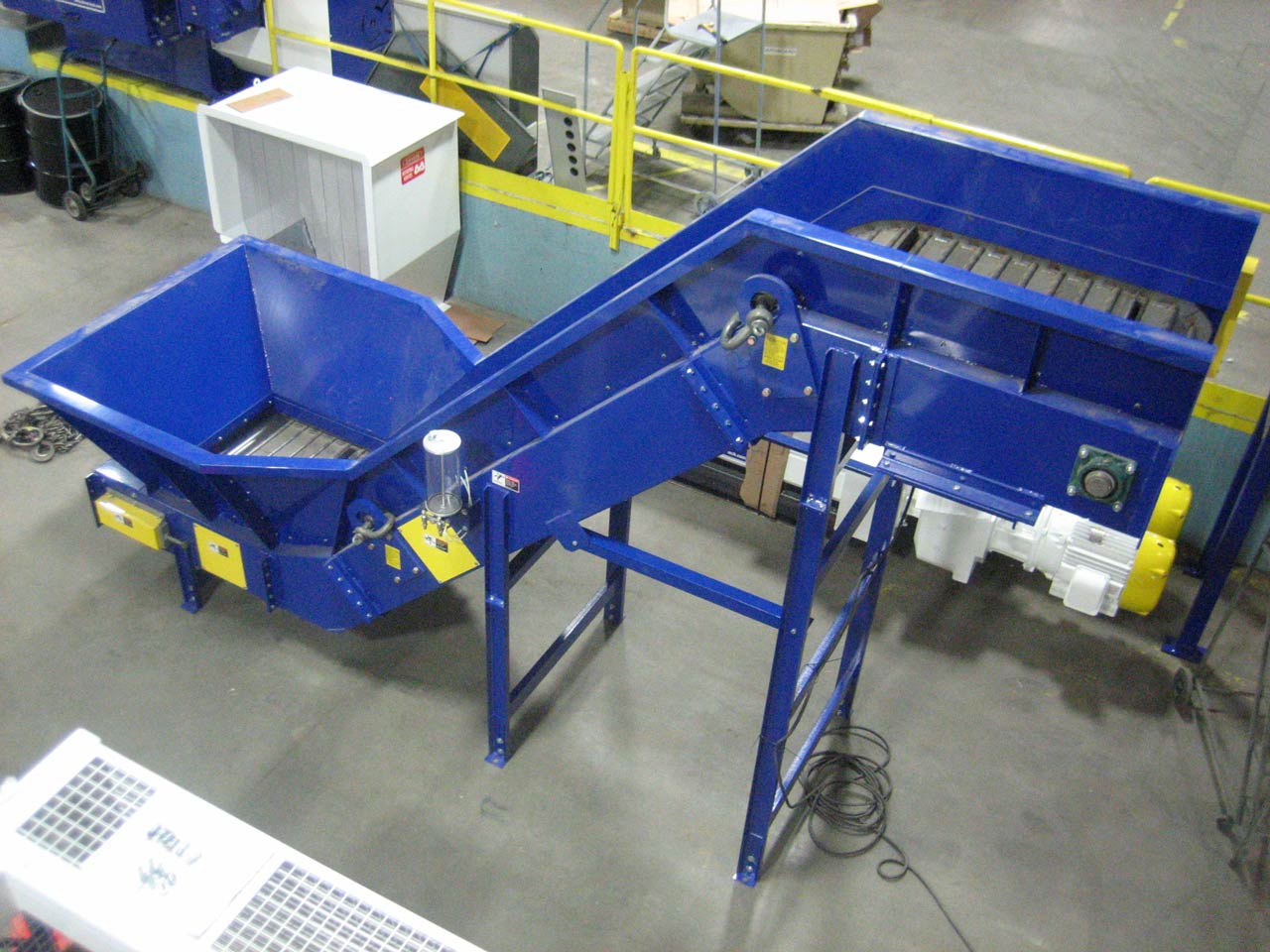 In-Feed and Out-Feed Conveyors
To create a high level of efficiency and smooth operation while allowing the maximum amount of material into the shredder, you can opt for an in-feed conveyor, out-feed conveyor, or both. Adding one or both can dramatically improve the speed and ease by which operators shred material at your facility. By automating the loading and unloading process with conveyors, you can increase both productivity and revenue.